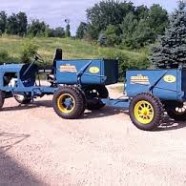 Toro General Golf Tractor Restoration
Dry ice and crushed glass successfully used to restore 70 year-old historic tractor!
The Situation
In early 1941, three Toro General Golf Tractor s were on the production line to be built for their respective customers. When World War II started, Toro stopped all domestic mower manufacturing in order to build tanks, cannons and anti-aircraft gun parts so the three tractors were put on hold. When the war ended, two of the tractors were finished and delivered to their original customers. One of the tractors was no longer needed so Toro removed the engine and rear end and stored it in the warehouse. This was before red became the staple color of the Toro brand so the tractors were painted "machine blue" – a trial color that they had on-hand. Minnesota Valley Country Club, located in Bloomington, MN, received one of the tractors and the other one was delivered to another Toro customer. In 1955, Minnesota Valley Country Club asked Toro if they would manufacture a pull-behind trailer for their tractor. This was not a common practice for Toro at the time but they decided to take the last production tractor that was in the warehouse and modify it for this need. They used the original frame and dump box from the tractor, installed a model 'A' front end for the rear end and installed a set of Toro wheels. The Toro General Golf Tractor was built. This created a one-of-a-kind matching dump trailer for the country club. whois directory Midwest Dry Ice has perfected the dry ice/crushed glass paint and rust removal that eliminates panel warping and the need to use a grinder for safely removing old paint.