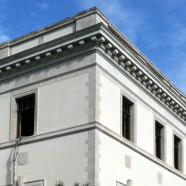 We get asked this question often regarding removing mold from concrete.
How do you properly clean it and leave it in it's original state? Mold spores are constantly being deposited on these areas where you have plenty of nooks and cranny's. Add a little moisture and mold begins to grow. One option is to use harsh chemicals but that's unsafe for the people involved in the cleaning and the environment. Midwest Dry Ice Blasting has been professionally removing mold from concrete and brick structures successfully without the use of harmful chemicals. Dry Ice Blasting is safe for the concrete, wood, brick and the environment without leaving any residue behind.
Our goal in mold remediation work is to restore the structure to its original state and to uncover the underlying surfaces of the structure without causing additional damage. Our system works on concrete buildings, patios, decks, sidewalks, driveways, parking ramps, and many other concrete or brick structures.
When done correctly as you can see in the photo of the wood bench below Dry Ice Blasting is very effective at removing mold without harming the wood. This is a hugh time saver, no other preparation is necessary.
So the next time you have a question about removing mold from concrete, brick, or wood just call us at Midwest Dry Ice Blasting 952-288-5300 and we'll be happy to find the best solution that will work for you.